TDCoA Membership Application
Once you get here, if you are following emailed instructions, if any, stop & use these.
It is recommended you open another browser tab and open membership applications again so you may continue referring back to these instructions.
You will note that the $500.00 annual cost for a "Contractor" membership is already marked. Select the desired membership level. If you are a designer select "Engineer".
Enter your contact information including your "work" email address, the business name, and check I am not a robot". Click the "Next" button.
You will then be taken to a "Membership Sign-up / Additional information" form where you will add information about you and your business.
Under the address area enter "YOUR" address & phone number. This is so if we need to (we can get in touch with you).
Then there will be a business section where you will add information about your business including the address, phone number, and whether you are a "TDCOA Approved" contractor. If you are not already a member the answer is probably "No".
Then enter any promo code, payment information, and click the "Pay Now" button.
You may or may not receive an email in your "work" email confirming you have filled out the application. If you do not it will not stop you from creating an account.
You must now create an account;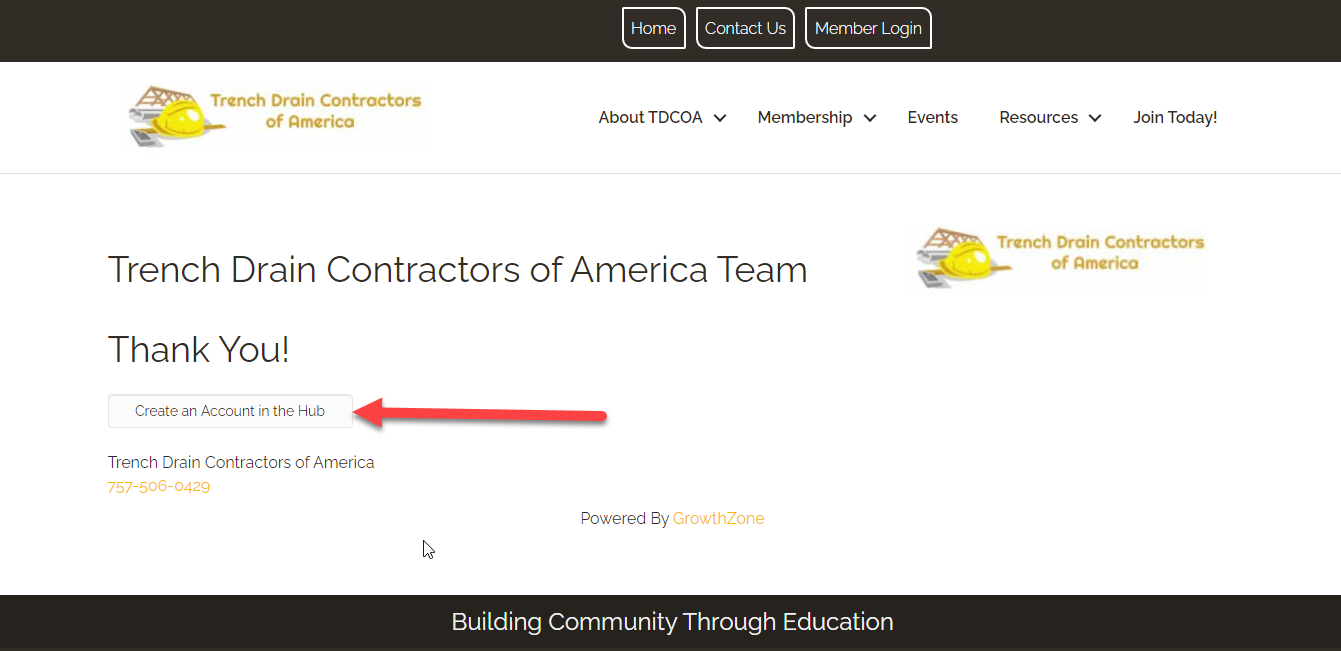 Click the "Create an Account in the Hub" button. Enter your "First" Name, "Last" Name and "work" Email address. You will then receive a "Trench Drain Contractors of America Account Creation Link" email. Open that read it, and "click here" to create your account. Your user name is in automatically filled in as First.Last but you mar replace that with the user name of you choice. Then enter your password and enter your password again. Then click the "Save" button.
Congratulations! You may now click "Member Log-in"
Enter Your User Name & Password and your in!
Thank you for joining Trench Drain Contractors of America (www.TDCoA.org). Feel free to explore the membership area. We are sure you will find it rewarding!